Adventure Boat Cruise – A Great Fusion Of Adventure And Leisure Activities
Boat Cruises are a great way to escape the chaos of city life and enter into an exotic life, you would be remiss not to include one of these in your bucket list while you are on your holidays in Goa. The feeling of sailing on the tranquil water of Arabian sea with a long golden stretch of glittering sand will leave you enthralled.
Why adventure boat cruise?
The Adventure boat cruise is a lot more than just a boat cruise. It has a variety of activities offered on board that will keep you entertained throughout your trip. The Catamaran cruise is big enough to accommodate at least 70 guests which welcome all age groups and is enjoyed equally by all.
A Boat Tour For All
The Adventure boat cruise has a lot to offer for adults, teenagers, kids, and senior citizens. It is more like a boat party wherein the DJ plays his scintillating music and guest on board can enjoy by dancing to the beats. There are various operators who offer the same package at different prices having additional facilities on extra costs. However, the minimum price of the cruise ranges from Rs.1300/- to Rs.1700/- which is pocket-friendly for all.
Cruise Timing
There are various cruises in Goa, but these catamaran party cruises operate only twice in a day for 3 hours each. The first slot is in the morning i.e. from 10:00 A.M to 1.00 P.M which is a very pleasant time to see glittering water during daylight and is generally preferred by families. Likewise, the second cruising slot is in the afternoon from 2:30 P.M to 5:30 P.M and gives you an opportunity to witness the awe-inspiring sunset while you are somewhere in the middle of the Arabian Sea.
The cruise happens to depart from Captain of Ports, Panjim and is easily accessible from everywhere. Initially, you are offered some liquor and soft drinks on board. Each person is entitled to three pints of beer and for all those who do not wish to drink hard drinks can chill with a glass of soft drink and share a common feeling with their friends and family. As you cruise further into the river, keep your cameras ready to capture beautiful Adil Shah's Palace, the masterpiece – Reis Magos Fort and a lot more to list. Further to this, you will be left spellbound as you head towards the sea. Do not miss to see the dolphins frolicking in the sheer waters of Arabian sea.
Tour Includes
Dolphin watching brings great joy to all the guests and this will melt all the stress that you have in your heads. Boat trips in Goa are usually about sightseeing only, but adventure boat cruise is something that offers you a lot more than just sightseeing. Meanwhile, you are allowed to do various fun-filled activities like Snorkeling, swimming, Sunbathing, fishing, Kayaking, stand up boarding etc. You will be taken into the middle of the sea or river wherein you will be allowed to plunge into the water with your life jackets on you.
For snorkeling, the crew will provide you with top-notch snorkeling kits. For those who wish to do kayaking will be provided with kayaks and life jackets and they can enjoy paddling around the sea or river. Kayaking is known to be one of the most relaxing activities both for mind and body. For some leisure activities like fishing, guests will be provided with fishing lines.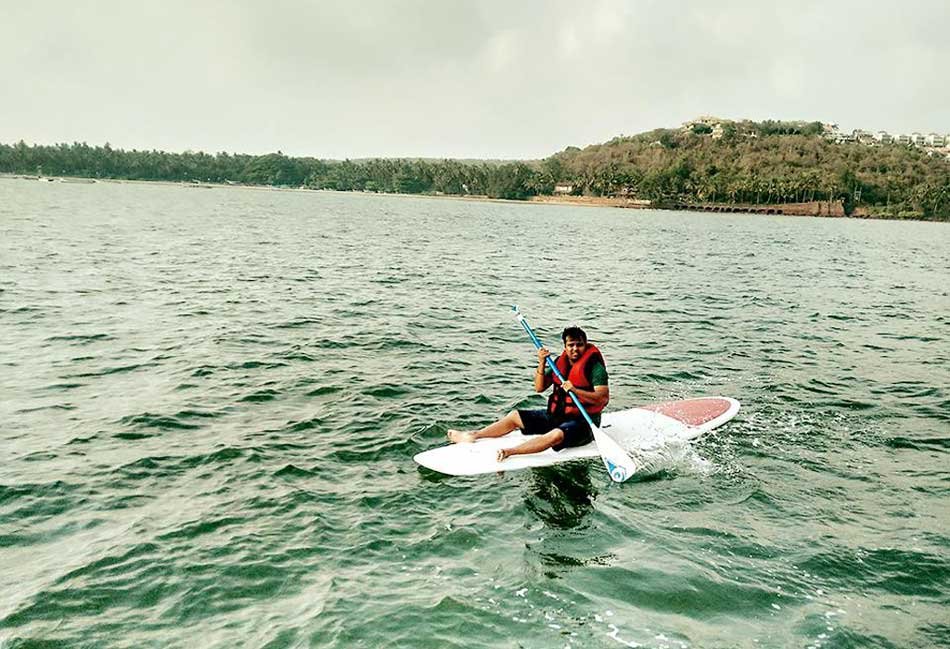 Once you are done with all your activities, you are definitely going to be severely hungry. For this purpose, you will be served some mouthwatering packed lunch both for vegetarians and non-vegetarians. People long to try all these activities but do not get enough time to do it all while they are on their holidays but this combo pack is all that you need to go for. Do not miss the opportunity to try your hands on this package as this Boat cruise is all that you need for a memorable vacation with your friends and family. The adventure boat cruise is a box full of surprises for all its guests on board and is definitely a not to miss thing.
Easy Booking
With the help of fast-growing technology, booking anything has become just a click away. Due to its popularity, it is advisable to book the adventure boat cruise well in advance because most of the times, seats happen to run short. However, after a detailed survey about various tour operators and their best deals, you can even opt for booking on the spot but the availability of seat can be guaranteed only by the respective tour operators you choose to book from. However, if you wish to book online then there are various travel sites that offer this awesome cruising package at best prices and you get a benefit of making payments through easy gateways like GooglePay, Net Banking, Debit Card, Credit Card, IMPS, Paytm etc.
Book Adventure Boat Trip Online 
To wrap it up, you are only a click away from living the best moments of your life. Do not give a second thought to enrolling yourself for the Adventure Party Cruise because this is all that you need to make your vacation one of the splendid vacations you have been longing for.